Nordic Blue Crude AS er nå i full sving med å detaljplanlegge/designe fabrikken som skal bygges på Herøya.
Selskapet er sikret finansiering av denne fasen etter at Telemark Utviklingsfond bevilget et konvertibelt lån på 5 MNOK i siste styremøte og Marquard & Bahls kom inn som investor på eiersiden med 4,1 % like før årsskiftet.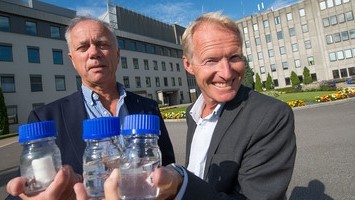 Rolf Bruknapp og Gunnar Holen Foto: Ole Bjørn Ulsnæs/Herøya Industripark AS
Gunnar Holen har hatt kontakt med ulike investorer i denne fasen og er svært fornøyd med at Marquard & Bahls nå kommer inn som medeier;
«Dette er en god investor å få med på eiersiden vår og vil kunne tilføre oss både kompetanse, nettverk og finansiell styrke», forteller Gunnar Holen.
I forbindelse med investeringen har Marquard & Bahls kommet med følgende pressemelding:
Marquard & Bahls to participate in Nordic Blue Crude
Marquard & Bahls has acquired a minority stake in Nordic Blue Crude on December 31, 2019. Nordic Blue Crude is a Norwegian company and one of the pioneers in the Power-to-Liquid sector. The investment is an important step for Marquard & Bahls to expand its existing portfolio towards renewable energies.
In light of the rapidly changing energy landscape, the company is actively exploring investment opportunities in the renewable energy sector. Marquard & Bahls intends to become an active participant in the energy transition. As a first investment in the renewable transport fuels the company is now investing in Nordic Blue Crude.
The Norwegian company is on its way to establish the first publicly known Power-to-Liquid project on an industrial scale. The groundbreaking project will provide Nordic Blue Crude with first mover advantages and will enable it for further expansion. Currently, Nordic Blue Crude is engineering its first «E-Fuel 1» plant in Herøya, an industrial park located 150 km southwest of Oslo, with a production capacity of 10 million litres of synthetic hydrocarbons (blue crude and wax) per year, using renewable electricity, water and CO2 as feedstocks.
The «E-Fuel 1» plant is expected to reach full production capacity in 2022, with room for expansion to a further 100 million litres. The produced blue crude is carbon neutral and offers a 100% reduction in CO2 emissions compared to fossil fuels. After the refining step, the product mix will consist of kerosene (jet fuel), diesel, wax and naphtha.
Mark Garrett, CEO of Marquard & Bahls says, «As part of our strategy, we intend to further diversify our portfolio and increase our commitment to renewable energies, among other things. Our investment in Nordic Blue Crude is an important first step in this direction. This project is the first of its kind for us, but others will follow if the right opportunities arise."
Marquard & Bahls AG is an agile, independent holding company in the energy & chemical sector. Its core lines of business include tank storage logistics, trading and aviation fuelling. Through its subsidiaries, Marquard & Bahls has a presence in 35 countries in Europe, America, Asia and Africa and employs around 6,600 people.
www.marquard-bahls.com