Nordic Blue Crude har deltatt i en innovasjonskonkurranse i regi av det tyske nova-Institute og fikk en 2. plass.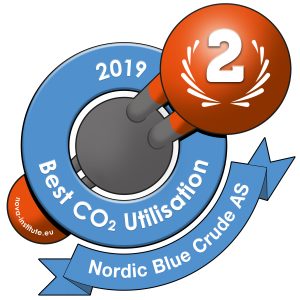 Dette måtte selvsagt markeres. Proventia Gratulerer!
På bildet ser vi Rolf Bruknapp og Bjørn Bringedal.
Fra pressemeldingen:
In the run-up there had been 20 submissions for the «Best CO2 Utilisation 2019" prize, which the nova-Institut is awarding for the first time. The recycling of carbon dioxide plays a central role here. Every idea has the claim of being able to be implemented industrially in the long term. This shows how important the topic has become in the meantime and how active numerous companies have already become in this field, according to Michael Carus, CEO of the nova-Institut.
Nordic Blue Crude, a company from Norway, was in second place. It succeeded in producing synthetic crude from CO2 as well as renewable power and water. The crude is usable as diesel or kerosene and can be refined to gasoline. In third place was b.fab from Germany, which was honored for a process technology to efficiently convert CO2, water and renewable energy into value-added chemicals such as lactic acid.
About nova-Institute:
nova-Institute is a private and independent research institute, founded in 1994; nova offers research and consultancy with a focus on bio-based and CO2-based economy in the fields of food and feedstock, techno-economic evaluation, markets, sustainability, dissemination, B2B communication and policy. Every year, nova organises several large conferences on these topics; nova-Institute has 30 employees and an annual turnover of more than EUR 3 million.